ICSI – Infertility Treatment
Intra cytoplasmic sperm injection (ICSI) is most advanced and available method of infertility treatment in assisted reproductive technology (ART) used to treat all male infertility problems. Intra Cytoplasmic sperm injection is an extremely suitable option for couples. This ICSI treatment helps you to conceive a child. ICSI treatment in Hyderabad is a well-established technique; it enables fertilization happen when there are few sperm available.
Male infertility factors can include any of the following problems:
Low sperm Count
Poor quality sperm
Sperm that lack the ability to penetrate an egg
General medical disorders that reduce fertility
Sperm disorders
Genetic disorders
Sperm with abnormal shape
ICSI Procedure
Intra cytoplasmic sperm injection (ICSI) is a method used as a part of an In Vitro Fertilization procedure; it involves putting a healthy sperm directly into the mature egg using a micromanipulation tool. Once mature eggs have been obtained from the female the ICSI procedure is performed. In this process a powerful individual sperm is injected into the center of an egg in order to achieve fertilization. With ICSI, the sperm is not required to travel to the egg or penetrate the outer layers of the egg; it is artificially injected to the egg. We have found ICSI to be a very effective method to get increased rates of fertilization of eggs in the IVF lab. We can choose better sperm & oocyte for fertilization. So we can have healthy embryo.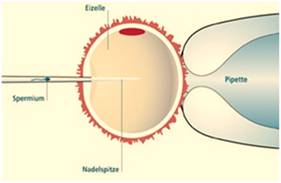 Artificial insemination by ICSI is one of the major advances in infertility treatment and has enabled thousands of children to be born around the world. In male fertility treatment ICSI has become the most successful technique.
 Advantages
This procedure is a big door to parenthood.
ICSI gives men with a very low sperm count or other fertility problems a chance of transferring to their genetic child.
It is possible to use immature sperm that have been retrieved from the man's testicles so ICSI can be used.
ICSI can also be used to help couples with unexplained reasons.
We assure you a complete recovery from diseases connected with fertility.